Bagpipe (and other) Music in Your Bluebonnet Tartan Wedding
Nothing denotes a Scottish wedding more than the skirl of the bagpipe.
Most commonly, a single piper is used, but if you wish, a full pipe band can escort the bridal car down the street towards the ceremony venue and in through the gates. For the actual ceremony, swap to a solo piper.
Bagpipe music is definitely not background music. If you want the piper to play as a prelude make sure that he/she is positioned some considerable distance away from where the guests are gathering. The same applies for the signing - the tunes played should be quieter and slower, and the piper should be some distance away, and definitely outside if the ceremony is taking place indoors.
It is physically difficult to play the bagpipes for any protracted period of time. If you want protracted background music playing consider a fiddler or other music source for that purpose.
I enjoyed watching your work, and the lovely easy manner that you have with your couples, and the photographers...lol. It was a lovely service. - Piper Joe McGhee


When to have a piper play for the ceremony

To pipe the wedding car into the venue
To lead the marrying couple and their wedding party into the venue and/or down the aisle at the beginning of the ceremony
During the signing of the register and marriage certificate
To pipe the wedding party out at the completion of the ceremony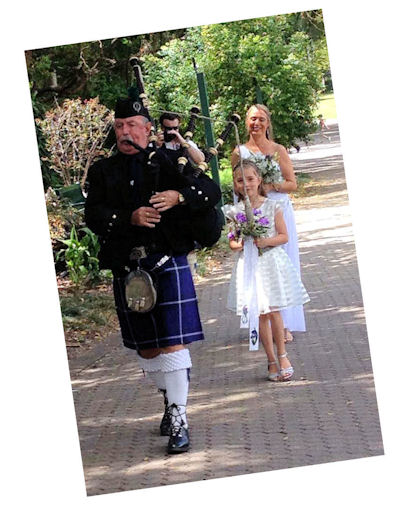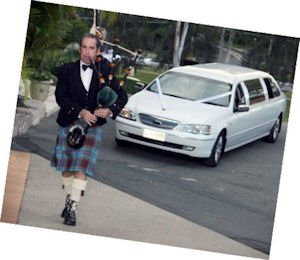 Left: Piping in the Bride, Piper Joe McGhee
Above: Piping in the Bridal Car, Piper: Tom Spiranac
Photo courtesy of Alison Cooke Photography
Other Music

Scotland has a rich history of beautiful ballads. Explore some of these for pre-wedding music, and perhaps for playing during the signing. One of my favourites is the Eriskay Love Liltwith itshauntingly beautiful tune, and lyrics ... especially this line Thou'rt the music of my heart

Here is the late Jean Redpath singing it unaccompanied https://youtu.be/xdRvP6QR_4w
Here is Judith Durham singing it: https://youtu.be/N995tLcb2t4
And this is Aled Jones: https://youtu.be/HTX-xvXfgn4

Recommended Pipers





These are pipers I've worked with recently and can recommend for the quality of their piping, presentation, and understanding of Scottish wedding ceremony customs, traditions, and music. I have no commercial connection with them and you should, as with all services, satisfy yourself as to their suitability for your needs. They are listed in alphabetical order.

David P Greenhalgh
Phone: 0407 656 233
Email: goldcoastbagpiper@gmail.com
Web: http://www.goldcoastbagpiper.com

Brian May
Phone: 0415 682 407
Web: https://www.bagpiperbrian.com.au/

Joe McGhee (Piper Joe)
Phone: 0412 785 216
Email: joe@piperjoe.com.au
Web: www.piperjoe.com.au

Tom McGirr
Phone: 0421 326 460
Email: bagpipes@stkildaretail.com.au
Web: www.stkildaretail.com.au

More information on marrying in the Scottish Tradition