Scottish Weddings in Brisbane
When you marry in a
Bluebonnet Tartan Wedding
it is not just a reflection or replication of the past. It's the 21st century, and as much as we all love
Outlander,
we will create a ceremony that takes a very modern approach to integrating the old with the new. It's not just about kilts and bagpipe music! There are so many more possibilities. The end result will be an intricate blend of ancient Scottish wedding tradition and familiar liturgy with a modern sensibility that fits perfectly into a Brisbane wedding.
There are many traditions to choose from to celebrate your links with Scotland. Your Bluebonnet Tartan Wedding can be infused with your personal style. You can even have a fusion wedding, incorporating traditions from other cultures.
There's a lot to a Bluebonnet Tartan Wedding

In fact, a lot more than there is to the average Australian Wedding.
A Bluebonnet Tartan Wedding is way more than "talking heads". It is different, from beginning to end, while still being familiar. Plenty to see. Your photographer will love it just as much as your guests will and the photos will be stunning.
Your ceremony will be authentic

Did I mention that my knowledge of Scottish wedding traditions comes from both my Scottish heritage and my deep and personal understanding of Scottish wedding traditions and that I'm pretty expert when it comes to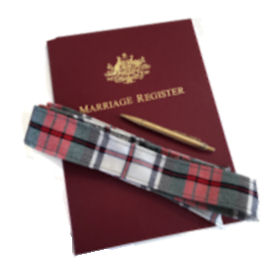 Handfasting Scottish-style using a tartan band or ribbon.
The sashing of the bride
The sharing of the quaich

Other, less well-known ceremony inclusions?
Starting the ceremony in the traditional Scottish way heightens the emotion for everyone and provides opportunities for happy and natural photos that capture that emotion. Including Scottish poetry, blessings, and other readings ensures that the ceremony is Scottish through and through.
Your ceremony will be personal and unique to the two of you

I differentiate between personal and personalised. Your Bluebonnet Tartan Wedding goes way before the personalisation you get when you buy a car. You know - everyone recognises the car for it for what it is (make and model), all you've been able to do to put your personal stamp on it is choose the colour, choose a few internal features from a very limited list of options, maybe spring for slightly fancier wheels and perhaps add a racing stripe down the sides.
Your wedding ceremony will be recognisably Scottish. But also recognisably you. It will be personal.
What about the legals?

As your celebrant, I take care of all the legal requirements - both the paperwork and registering your marriage after the ceremony.
At this moment there are only three things you need to know

You must complete and lodge a Notice of Intended Marriage will me at least a full calendar month before your big day.

You have to show me documents to prove

when and where you were born
photo ID to prove who you are
if you have been married before, a divorce or death certificate to prove you are free to marry again

Certain things have to be said during the ceremony for your marriage to be legal

I'll fill in the details when we talk.

Already married?

You can have a Bluebonnet Tartan wedding without getting legally married! So, if you got married quietly thanks to the pandemic, and now want the big bash, or you got married overseas and want to do it all over again for friends and loved ones here in Australia . Absolutely! We can do this.
More information on marrying in the Scottish Tradition