I'm Jennifer Cram, Authorised Marriage Celebrant and Provider of Fun, Inclusive Ceremonies in Brisbane and surrounding areas
***Fully Vaccinated against COVID-19 and other

transmissible

diseases ***
I'm so pleased to welcome you to the wonderful world of weddings done the Scots way!

Please feel free to contact me with any questions you might have. I'm always up for a wee chat about all things wedding and about how, together, we can create a ceremony that is perfect for you.
A wedding ceremony in the Scottish Tradition gives your guests so much that will delight their eyes and ears, and, by incorporating time-honoured traditions that go to the heart of what a great wedding ceremony warm their hearts with a celebration of the joining of two people, two families, and pride in culture.

The best weddings tell stories in an interesting way. And a beautifully put together wedding ceremony in the Scottish Tradition tells not only your story, but is flavoured with the heritage of Scotland, heritage spanning centuries that make Scots the people we are, regardless of how many generations removed we are!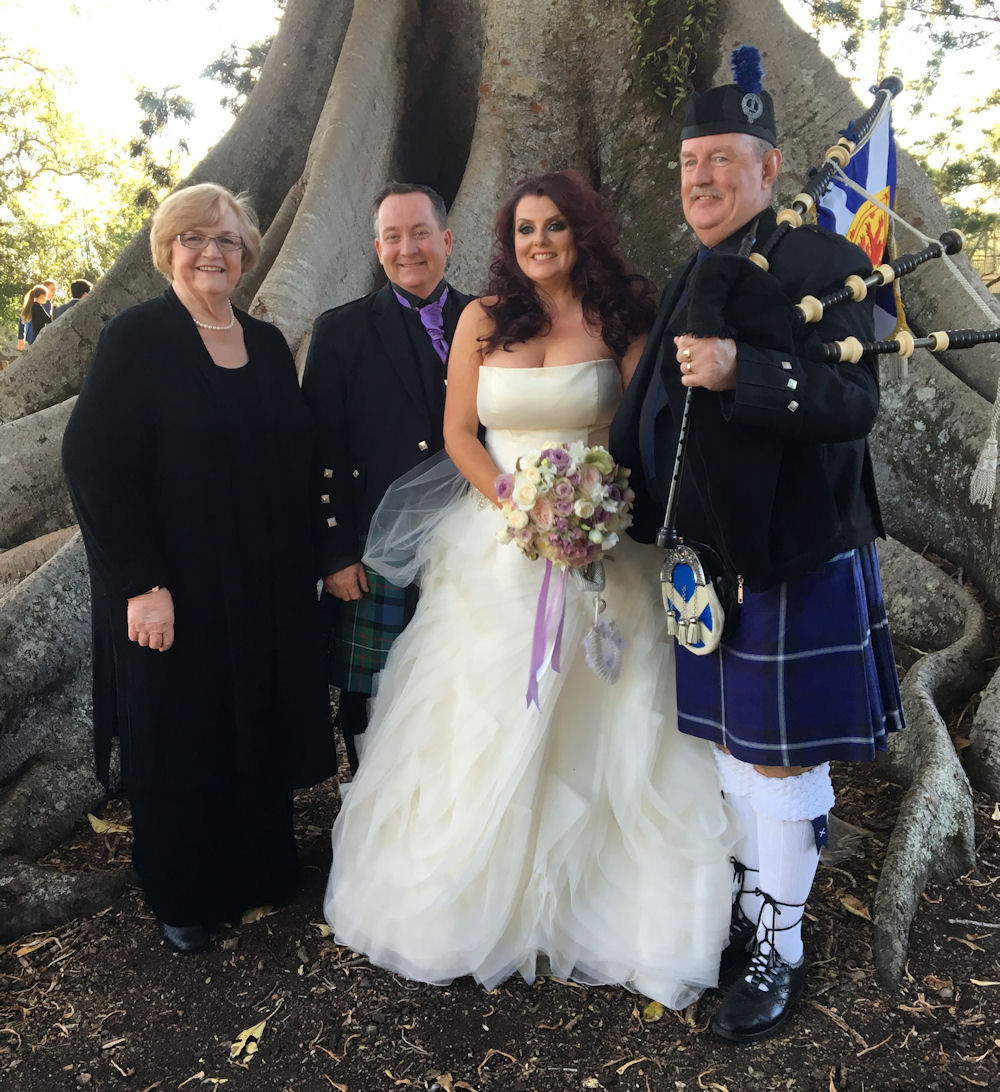 Your heritage is an essential and often incredible fascinating and moving part of your story. I help you to celebrate your Scottish heritage by including Scottish wedding traditions such as handfasting and jumping the besom that resonate with Celtic and northern traditions. Together we will create a ceremony that is an intricate blend of ancient Highland tradition, familiar liturgy with a modern approach to integrating the old with the new.
The ceremony will not be solely a reflection of the past. I will make sure that it is infused with your personal style, that it resona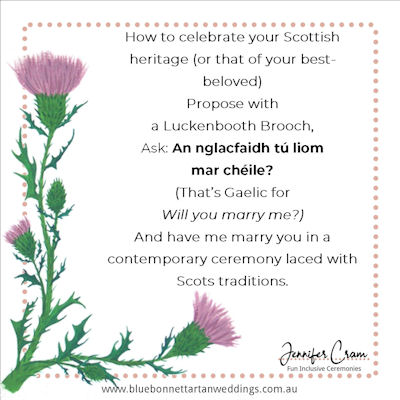 tes to your story, and is a feast for eyes, ears, and heart that your guests will love, and so will you.
While the wearing of tartan is a significant symbol, your ceremony can feature tartan in various other ways including a tartan ribbon or band used in a handfasting ritual. The men do not have to wear the kilt - tartan trews are fantastic too, as are the growing range of jackets, waistcoats (vests) and even full suits available in many tartans. Or they can opt for a more understated expression in clan tartan socks with business suits or formal evening dress.
A taste of what others have said about my services

You are VERY good at what you do Jen, and you have such a wonderful and warm personality....so it is NO wonder that you get rated so highly. Love your work, and look forward to working with you again soon - - Piper Joe McGhee

Everyone thought you did a fantastic job and set the scene perfectly. We thought your way of creating a ceremony was brilliant. We were extremely happy at how the whole ceremony went. It was loving and thoughtful. The atmosphere that was set was relaxing and fun. It was exactly what we were looking for our ceremony to be. - Catriona and Mark who held their tartan wedding at the Grand View Hotel. Mark wore the Australian Dress Tartan, and their wee son was resplendent in his own kilt and Prince Charlie Jacket.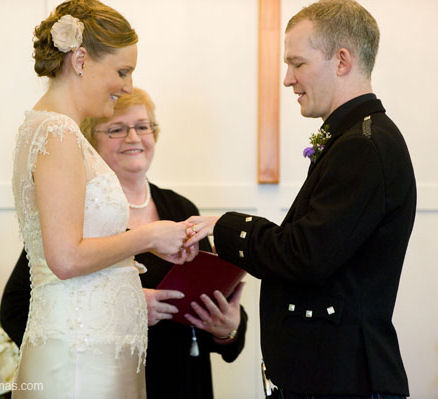 Thank you so much for composing and conducting our wedding ceremony. We've just got the DVD back and re-lived the experience. It was perfect. We were so happy to meet you after struggling to find the celebrant for us. From briefing us about the legal requirements, the surveys, drafting, patience with our motley crew at the rehearsal, calm confidence and charisma on the day through to your name-changing instructions, we enjoyed working with you and were in good hands! Thank you - Rowan and Michael, who married in a chapel ceremony that incorporated their Scottish heritage and included family members. Photo courtesy of Natalie McComas

hank you so much for yesterday. It was a perfect day and I had so much fun. Everything was just so wonderful and many guests commented on the ceremony and how it fit us perfectly. Thank you for listening to us about what we wanted and delivering it to a tee! - Glenys who married Gary beneath 300 year old Moreton Bay Figs at Old Petrie Town. Gary and his groomsmen wore the Prince Charlie Jacket. Glynis and her bridesmaids carried bouquets of Australian Native Flowers whose muted tones toned fabulously with the kilts
More reviews